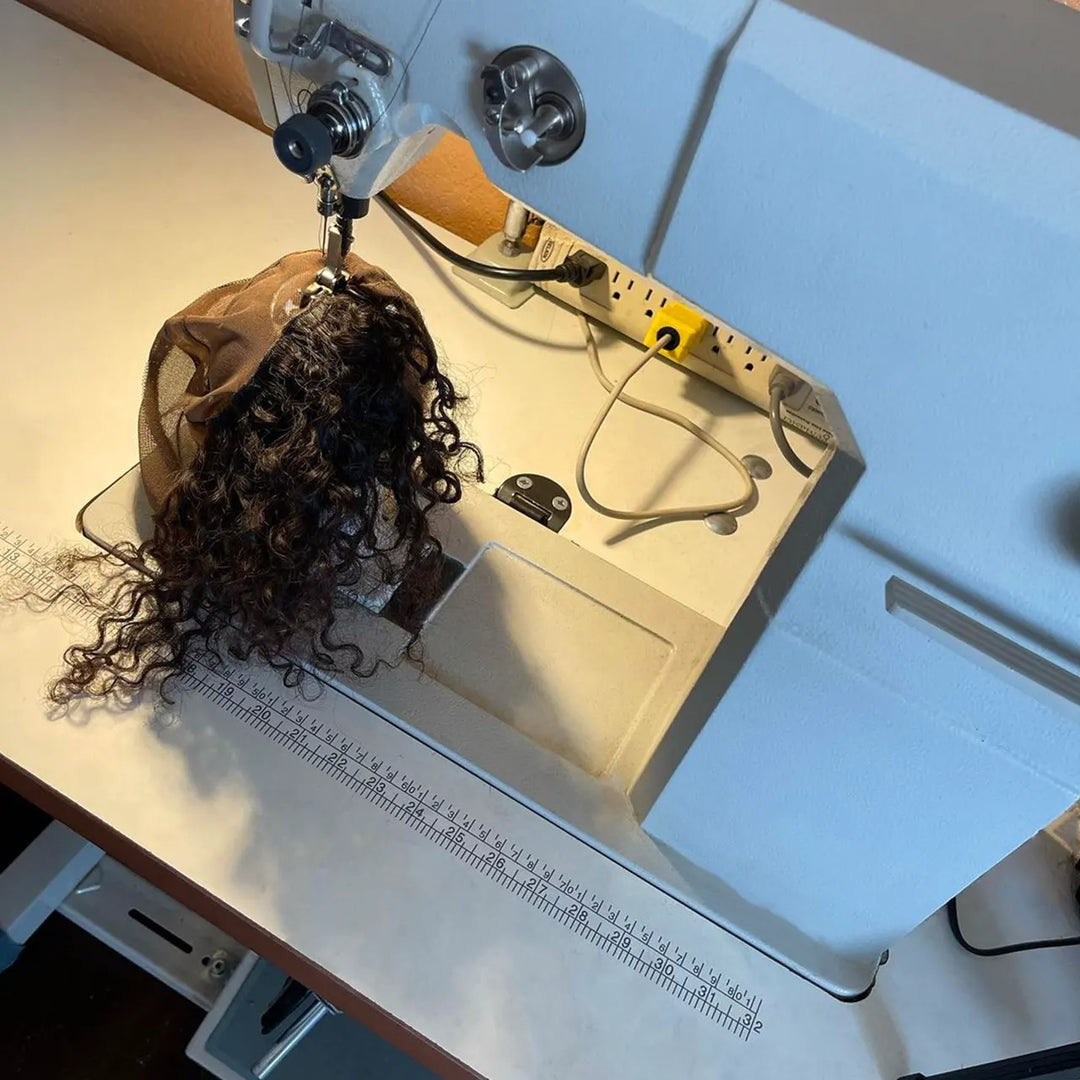 Wig Making in Atlanta Quickly Completed
---
We provide wig-making caps for free. We have 5 mesh cap sizes. Extra Small, Small, Medium, Large, Extra Large.
| | | | | | | |
| --- | --- | --- | --- | --- | --- | --- |
| # | (in) | XS | S | M | L | XL |
| 1 | C | 20 | 21.5 | 22.5 | 23 | 24 |
| 2 | F2N | 13 | 13.5 | 14.5 | 15 | 15.5 |
| 3 | S2S | 10.75 | 11 | 11.5 | 12 | 12.5 |
| 4 | E2E | 11.75 | 12 | 12.5 | 13 | 13.5 |
| 5 | T2T | 13.75 | 14 | 14.5 | 15 | 15.5 |
| 6 | NoN | 4.75 | 5 | 5.5 | 5.75 | 6 |
*C: circumference; F2N: front to nape; S2S: side to side; E2E: ear to ear; T2T: temple to temple; NoN: nape of neck. Circumference is the main basis size.
If you are not sure which one to choose, please let us know, and we will send you samples for free.
If you are unsure about the extra small or the small size, we will send you both for you to confirm.
If you're not sure if it's the pick size or the small or large size, we'll send you all three.
We currently only support four hair textures: straight, body wave, loose wave, and deep wave. In addition, only 10A bundles are in stock.
For example, choose several body wave bundles and a body wave closure if you want to make a body wave wig.
Go to the bundles' product page below.
Str8: straight; BW: body wave; LW: loose wave; DW: deep wave.
Pick your favorite hair length.
Pick 10A (in stock at the Atlanta studio).
Select the number of bundles, buy more save more.
Choose the size of the wig cap.
Add wig cap to cart.
Choose closure (one wig only needs one).
add closure to cart.
Click add to cart and go to the shopping cart to checkout.
Recommended Length and Quantity Collocation
Each wig needs 1 closure and 2-5 bundles; the closure weighs 30-100g according to the length, and each bundle weighs 100±5g.
| | |
| --- | --- |
| Closures | Bundles |
| 12" | 2 bundles, up to 18" |
| 14" | 2 bundles, up to 20" |
| 16" | 2-3 bundles, up to 22" |
| 18" | 2-3 bundles, up to 24" |
| 20" | 3-4 bundles, up to 26" |
| 22" | 3-4 bundles, up to 28" |
| 24" | 4-5 bundles, up to 30" |
| 26" | 4-5 bundles, up to 40" |
Currently, only 10A bundles are in stock in Atlanta, so please choose 10A bundles when choosing bundles.
Ever encountered the discomfort of a too-tight wig pressing down on your scalp or the unsettling looseness of a wig that doesn't quite fit? At our store, we understand that everyone's head size is unique, and the 'one-size-fits-all' approach does not work for everyone. That's why we are proud to introduce our Custom Wig Fitting service!
No more headaches from ill-fitting wigs. No more compromises on comfort and natural appearance. With our Custom Wig Fitting service, you'll enjoy a wig tailored just for you.
*New Service, Limited Time Special! Buy the corresponding hair bundles and closures from our store to create your wig, and the production fee is just $0.1. Hurry, seize this fantastic offer while it lasts!
Why Choose Our Wig-Making Service?
Our store is located in Atlanta, providing convenient services for customers in the United States. We take pride in our efficient order processing and delivery system. For customers within the US, we offer a quick turnaround time of 48 hours for shipping. If you visit our physical location in Atlanta, you can expect to collect your custom wig within just 2 hours.
Expertise: Our team consists of skilled professionals with extensive knowledge of wig-making. We stay updated with the latest trends and techniques to provide you with the best possible results.
Quality Materials: We source premium quality human hair to create our wigs. You can trust that our products are durable, comfortable, and designed to look natural.
Personalized Approach: We understand that every individual has unique preferences and requirements. That's why we offer a personalized approach, ensuring that your custom wig reflects your desired style and fits you perfectly.
Additional Services: In addition to custom wig making, we provide maintenance and styling services to ensure your wig remains in excellent condition. Our experts are available to answer any questions or concerns you may have.
On-site visit to enjoy
VVIP
service!
If it is inconvenient to visit, we also have a better solution. Get a free wig cap that matches your head circumference. After we confirm your size, we will arrange to make a wig for you immediately.
Some Other Notes
Please don't hesitate to contact us if you have any special customization requests, such as straightening or parting. While we can only accommodate simple customizations now, we are always happy to work with you to create the perfect wig.
Don't settle for store-bought wigs that don't fit your style or personality. Let us create a custom wig just for you, and experience the difference of wearing a wig that is uniquely yours. Purchase your bundles and closure and take advantage of our hair-making service!
👇👇👇👇👇👇