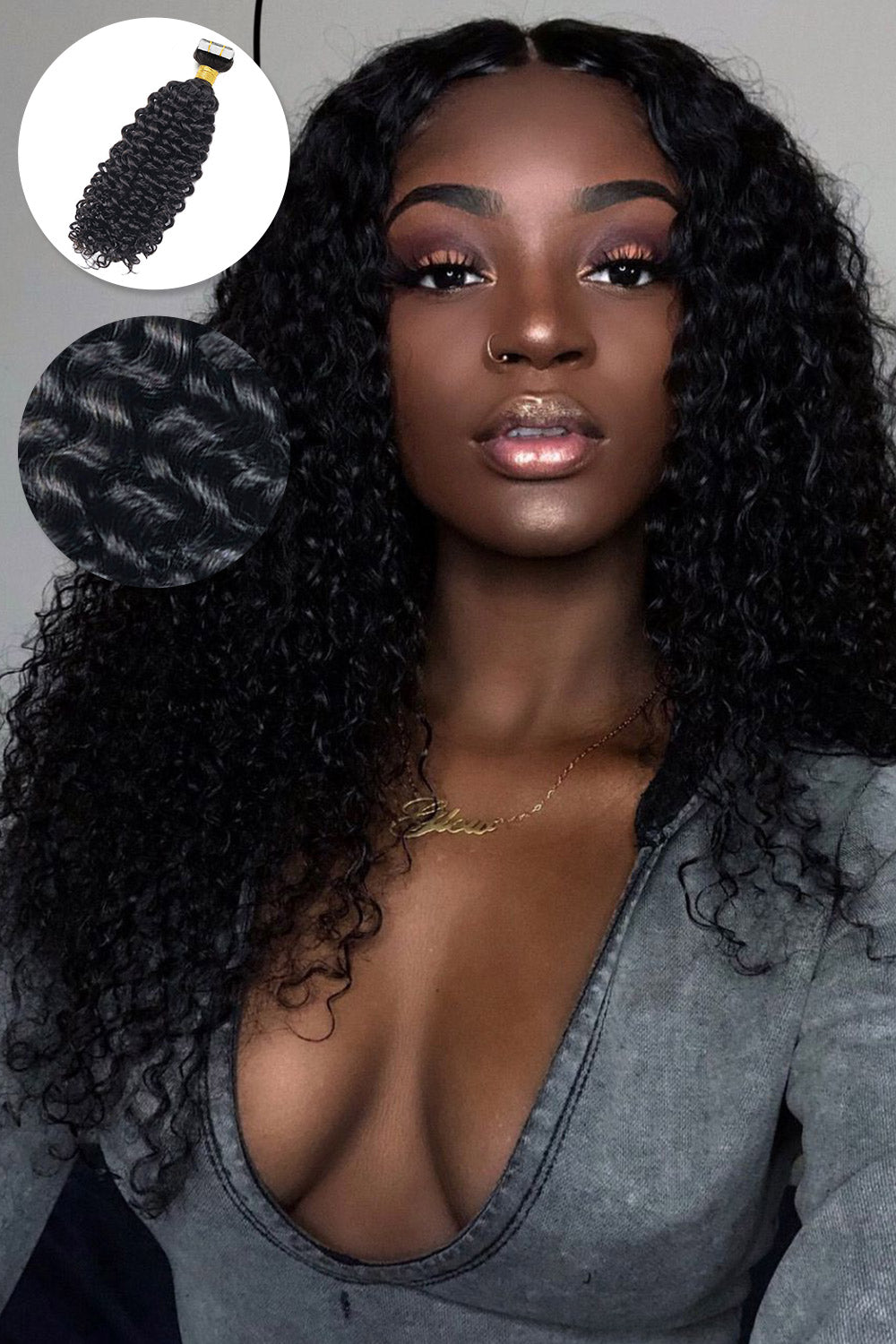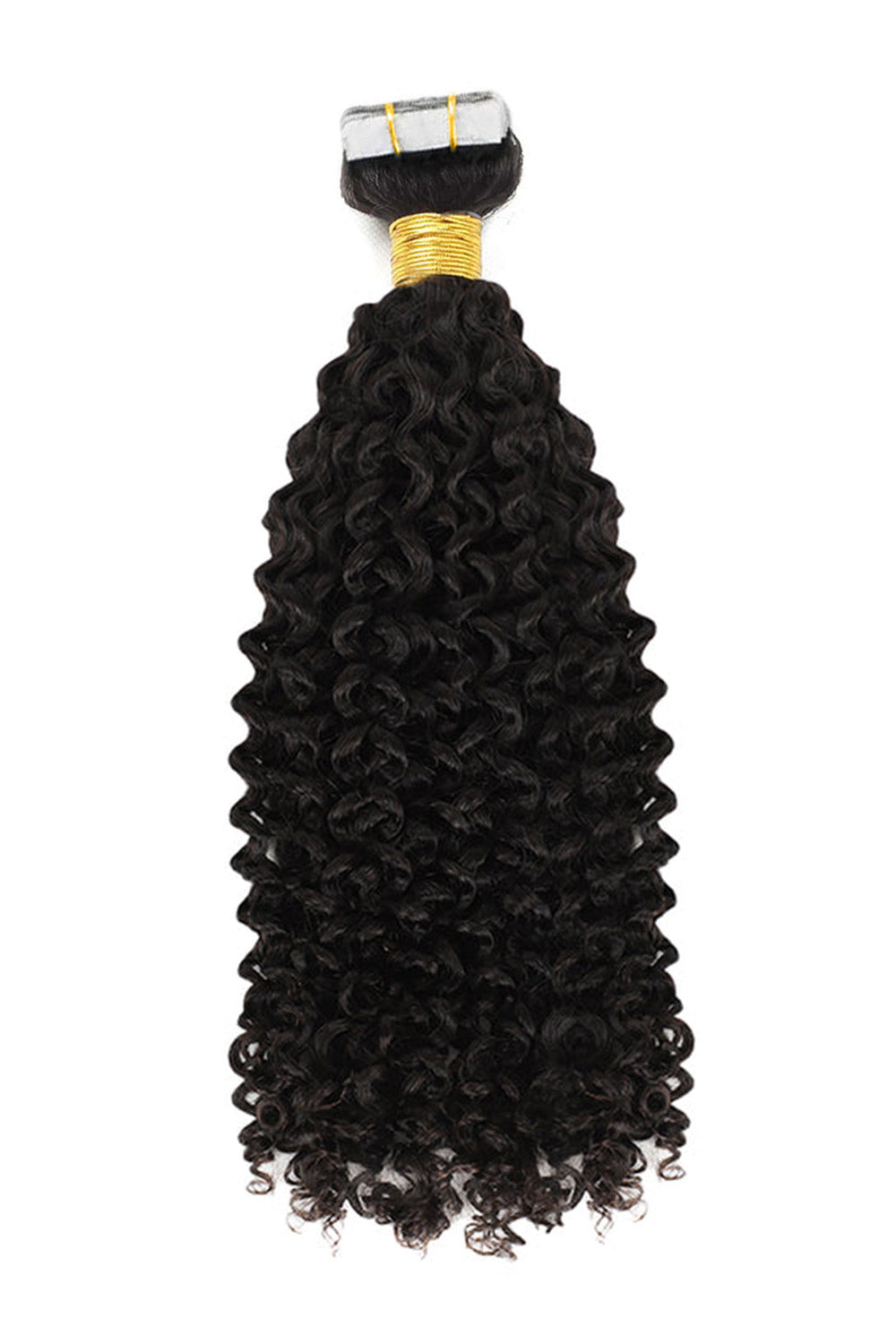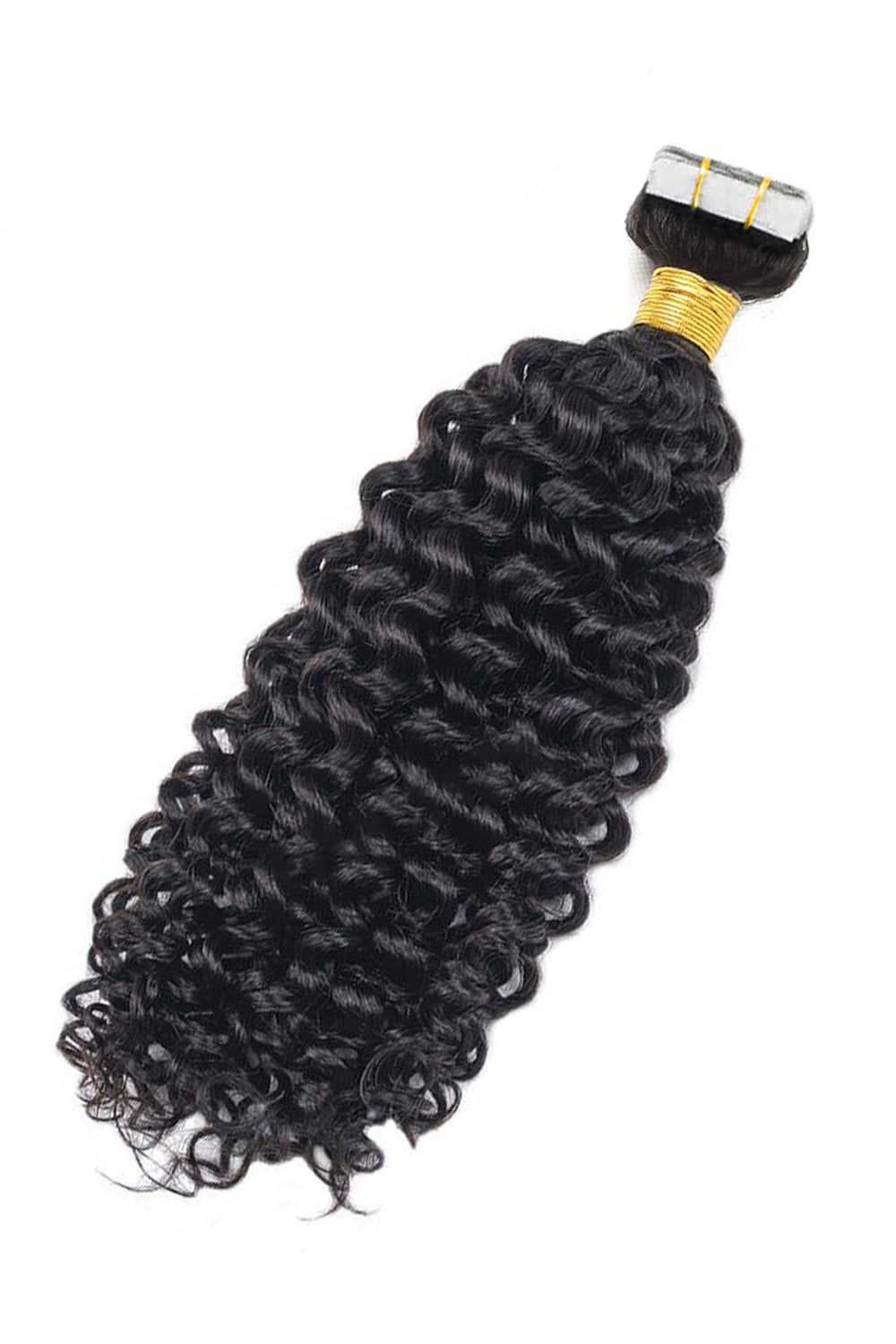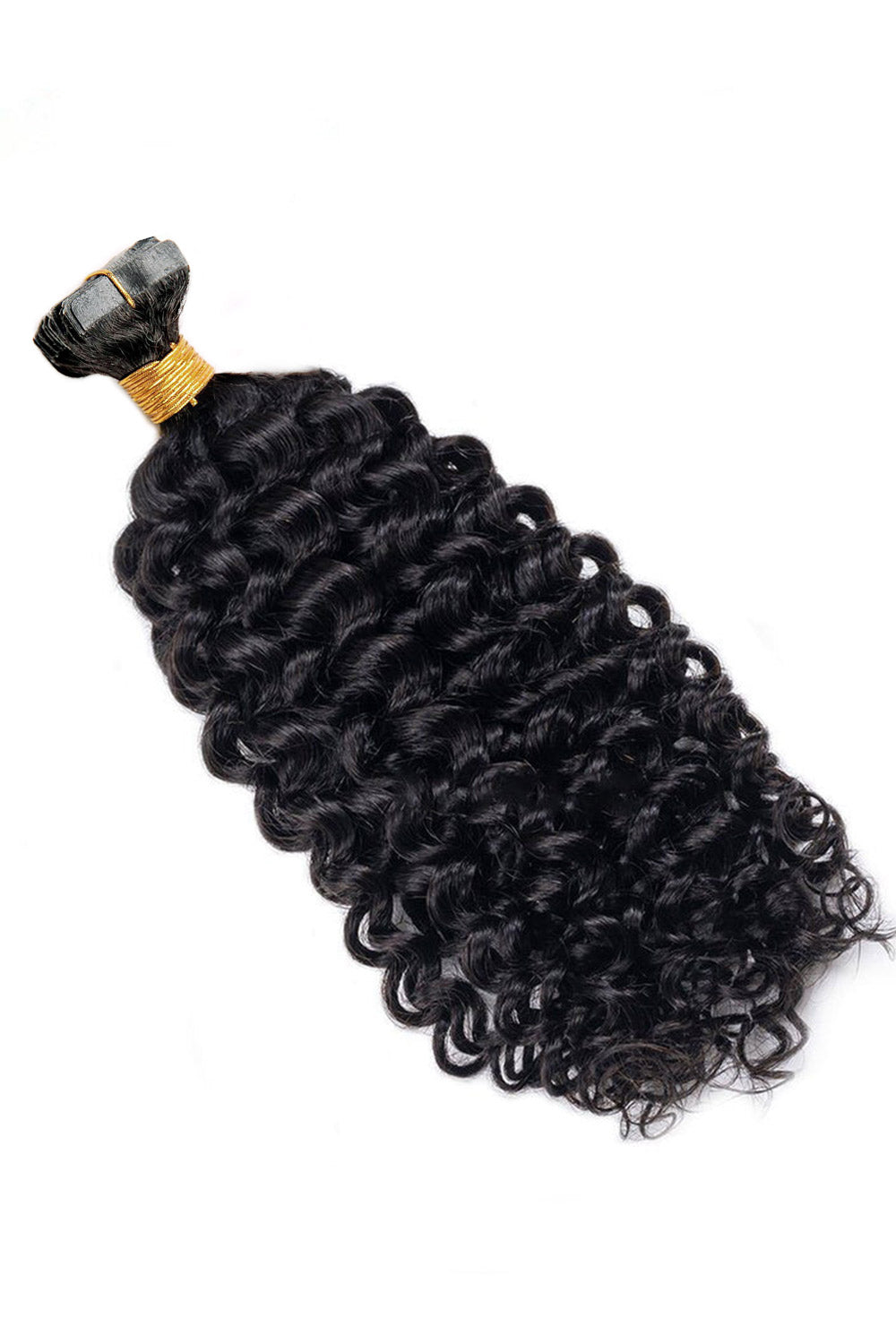 Curly Tape-in Hair Extensions for Black Hair Invisible Seamless
Regular price
$105.00
Sale price
$76.00
Save $29.00
/
---
Buy More, Save More!
$20.00 off the purchase of 2 packs.
$39.00 off the purchase of 3 packs.
$58.00 off the purchase of 4 more packs.
The discount is applied automatically at checkout!
Save big on Black Friday and Thanksgiving
Dive into our spooktacular savings this season:
Don't miss out on these fang-tastic deals! Limited time only. Shop now and save big!
Stackable Offer!
1. 
Price-Break Discount
12% discount on all products (Automatic)
2. Gift Card
Get a $10 gift card when order over $199.
3. Free Gift
Buy any 3 Bulk Hair and get a bottle of 16 oz braid gel for free (worth $20)!
Get broken hair finishing stick order over $59 (worth $4.9).
✈Free Shipping✈
We ship the goods via DHL\FedEx\UPS\USPS for free. (Order over $59)
Free standard shipping over $29 for USA and most other regions of the world.
The order delivery time is divided into two parts:
a. Processing time:
0-3 working days (Dying/ bleaching colors, doing textures, Increasing density need about 2-5 extra working days).
If you need urgent processing, please contact us in time.
b. Shipping time:
USA: 2-4 working days, Other Countries: 3-8 working days.
98% of customers can receive the goods within 15 days.
Return Policy:
Accept 14-day hassle-free returns, please contact us within 14 days after receiving your package. Contact email: sales@ygwigs.com.
For a complete and detailed introduction, please click on the link below:
Tape-in hair extensions are permanent extensions, also called tape hair extensions, skin weft extensions, or invisible tape hair extensions.
Product Details
Hair No.: TI04
One Bundle Set: 40 Pcs Tape-In Hair Extension, Weight 100 g.
Usually recommend 1 bundle(40pcs) for adding volume, 2-3 bundles (80-120pcs) for a full head. Recommended for 22-24 inch using 3 bundles(120pcs).
Each set comes with one free DIY tool kit includes the:
Magic hair sticker pad*2
Hair clip*2
Parting comb*1
Pre-cut tape tabs*2 (24 pcs)/ per bundle
Gurus Reviews:
Princess Kooch reviews and demonstrates the installation of tape-in extensions from YG Wigs, sharing her styling techniques, satisfaction with the product, and possible future updates on her experience.⏬

(00:00) Princess Kooch introduces YG Wigs tape-in extensions and urges viewers to keep watching for installation details.
(01:14) She mentions receiving three bundles of tape-ins, with two being 24 inches and one being 20 inches, which are installed for layering effects.
(02:25) She appreciates the flatness of the tape-ins, noting their non-bulky nature which aids in achieving a flat installation.
(03:27) Demonstrates versatility of the tape-ins by showing different hairstyle options like side parts, ponytails, and buns.
(04:53) Shares that she chose curly extensions to match her natural hair and demonstrates styling with flexi rods for body and curls.
(05:58) Mentions plans to update viewers on her experience once she takes down the extensions, with a focus on any hair breakage.
(07:39) During installation, she recommends getting curly extensions if one has curly hair to minimize heat styling.
(08:12) Highlights the use of a Velcro piece to keep hair out of the way during installation, and explains the process of taping the extensions.
(12:14) Explains a faster method of laying tapes across, then sandwiching them together, making the process more efficient.
(15:54) Demonstrates curling the extensions with T3 curling irons, appreciating the curls achieved and sharing heat-free curling alternatives.
(18:04) Shares satisfaction with the tape-ins, mentioning a possible switch from sew-ins, and praises her stylist friend for the installation.
(19:12) Enjoys the fullness and natural look the extensions provide, recommends professional installation but doesn't rule out self-installation.
Steff Lockett showcases the transformation from curly to straight tape-in extensions by YG Wigs, detailing the installation process, styling, and her satisfaction with the product's quality and appearance.⏬

(00:01) Steph introduces YG Wigs' curly tape-in extensions and mentions the video sponsor.
(01:05) Unboxing reveals additional accessories like clips, combs, and fake edges included in the package.
(02:05) Begins the installation process explaining the foundation for tape-ins and how to ensure enough hair is left out for various styles.
(02:30) Advises against using any products on hair during silk press as it hinders tape adhesion.
(03:32) Demonstrates the straightening of tapes using a flat iron before installation.
(04:00) Explains the tape sandwiching process to secure extensions, using a tool from Amazon for better adhesion.
(05:50) Mentions the repetitive but easy nature of the process once accustomed, appreciates the good adhesion quality of YG Wigs' tapes.
(09:55) After installation, styles her hair by flat ironing roots and cutting into layers for a natural blend.
(10:57) Showcases the seamless integration of tape-ins with her natural hair, appreciates the styling versatility.
(11:27) Adds curls to the extensions and mentions a separate curling tutorial.
(13:07) Enthusiastically anticipates wearing the extensions to the beach, admiring the blend with her natural hair.
(14:11) Expresses becoming a fan of tape-in extensions, thanks YG Wigs again for the sponsorship.
(15:33) Invites viewers to share maintenance tips for tape-ins and expresses love for the product's ability to hold straightening and curls well.
Ygwigs Tape-in extensions
100% Remy human hair, full cuticle aligned, long life span, no tangle, no shedding.
1.5-inch wide weft, quick Installation.
Anti-allergy, non-toxic and odorless, soft, and skin-friendly.
Tough and strong, reusable. Complimentary tape is available for your own repair.
How to Use Tape-in extensions
When installed correctly, Tape-in extensions will have a smooth, seamless look. They are also beginner-friendly, and you can install them by yourself.
Easy to install
Clean and dry hair (without conditioner).
Determine the installation position, divide the seam and install the upper and lower pieces.
Easy to remove
Special glue remover or 91% alcohol can simply separate the adhesive strip from the hair.
Apply oil or conditioner to the installation to condition the hair.
Easy to fix
Use a glue remover tool or scraper with glue remover to remove the residual glue from the rubber weft. Clean and dry the surface, apply our complimentary adhesive strips and the product will be as good as new.
Diagram for Hair Extensions
Green Line: For adding volume, hair extensions hide nicely in your hair.

Blue

+

Green Lines

: Full head makes hair look thicker and healthier. Large pieces of hair extensions, such as clip-in, tape-in, etc., can be placed here to save time for installation and maintenance.

Yellow Lines

: Front hairline, special attention is required; If you want a simple, seamless, and comfortable fit, you can choose nimi-tape, i-tip, micro ring, or hand-tied tape, which are small and natural.
Check out all the products in our hair extensions collection, all at the same discount. You can combine them according to the characteristics of the products and your preferences.
*This installation diagram is for reference only; different hair stylists will have other installation methods.