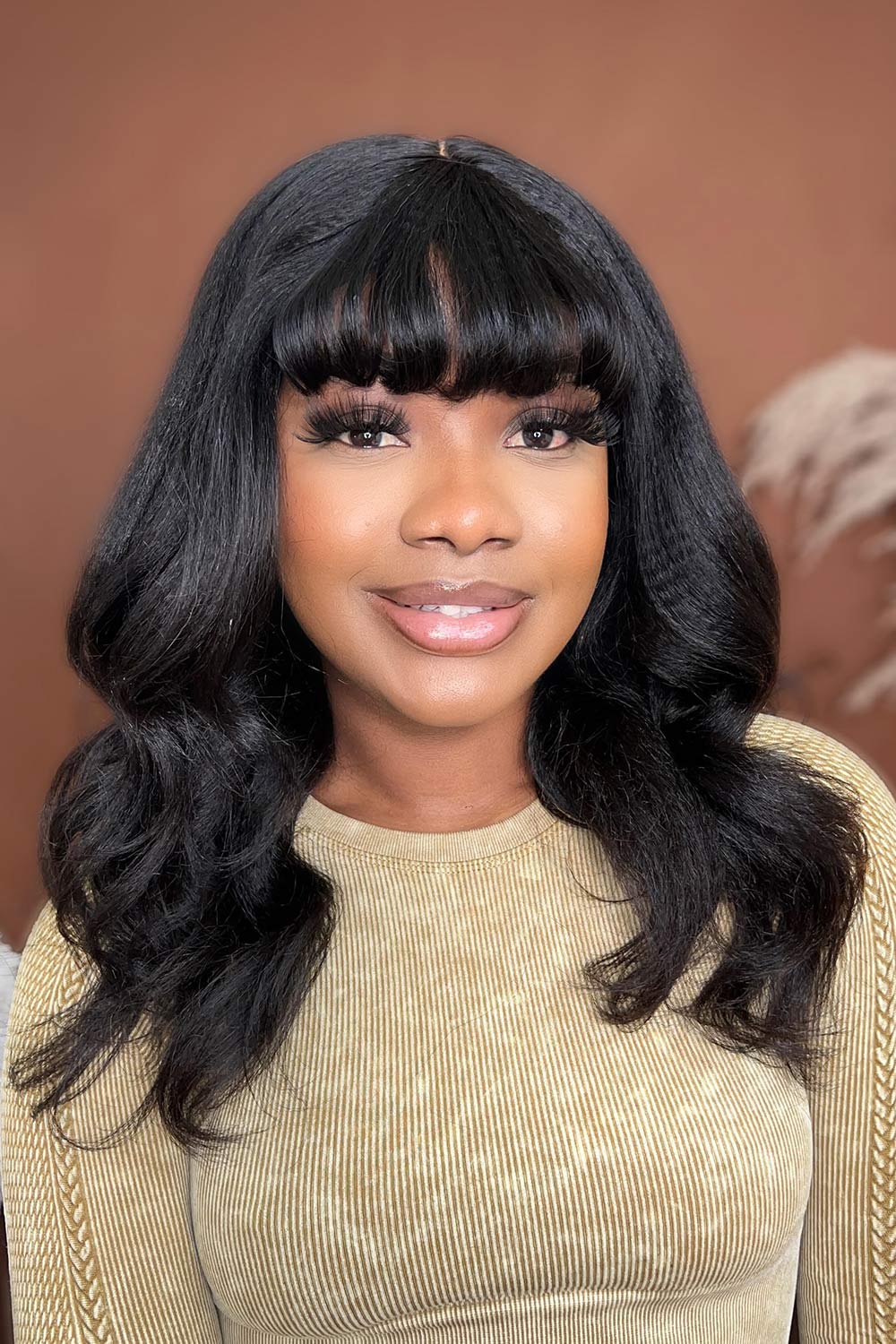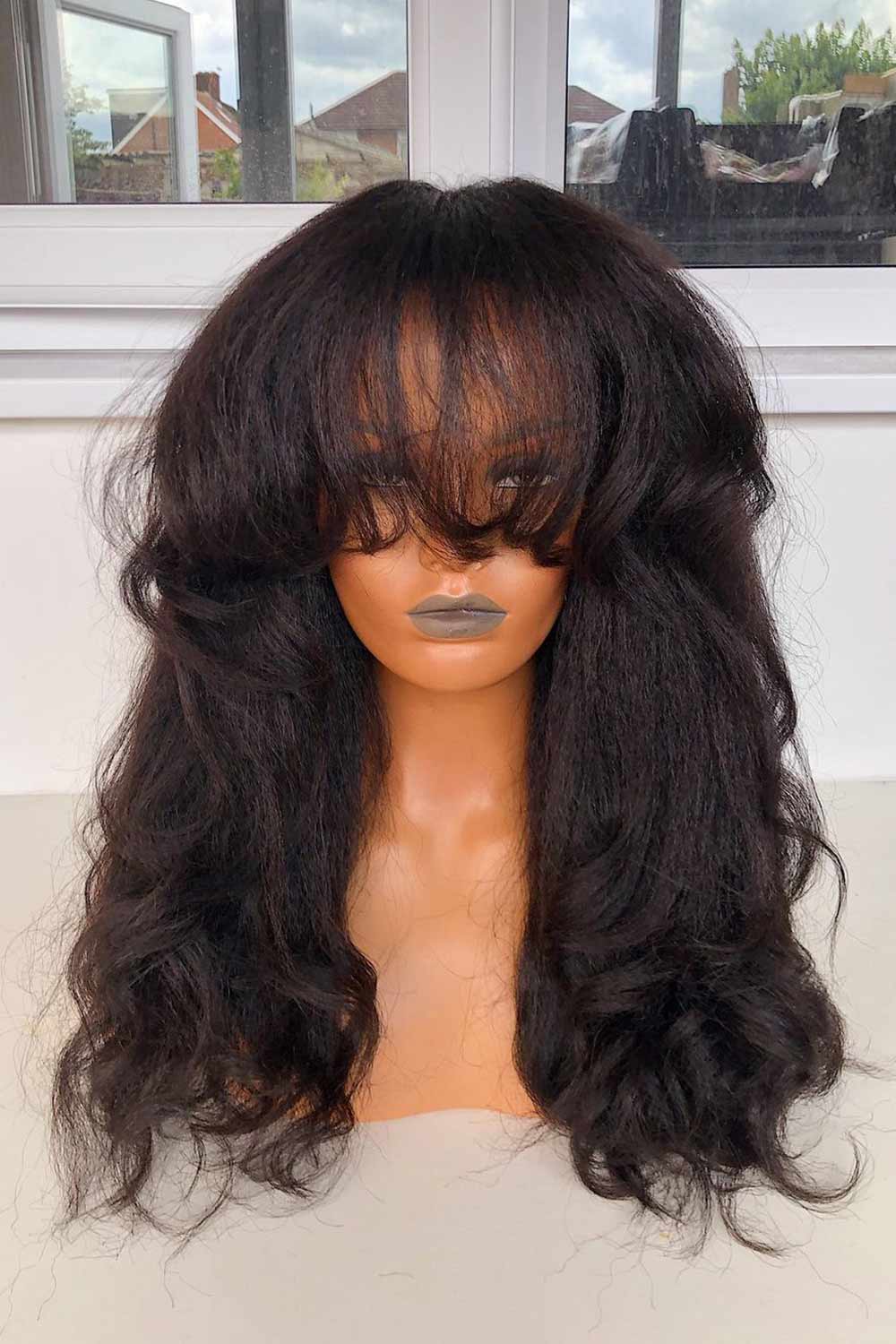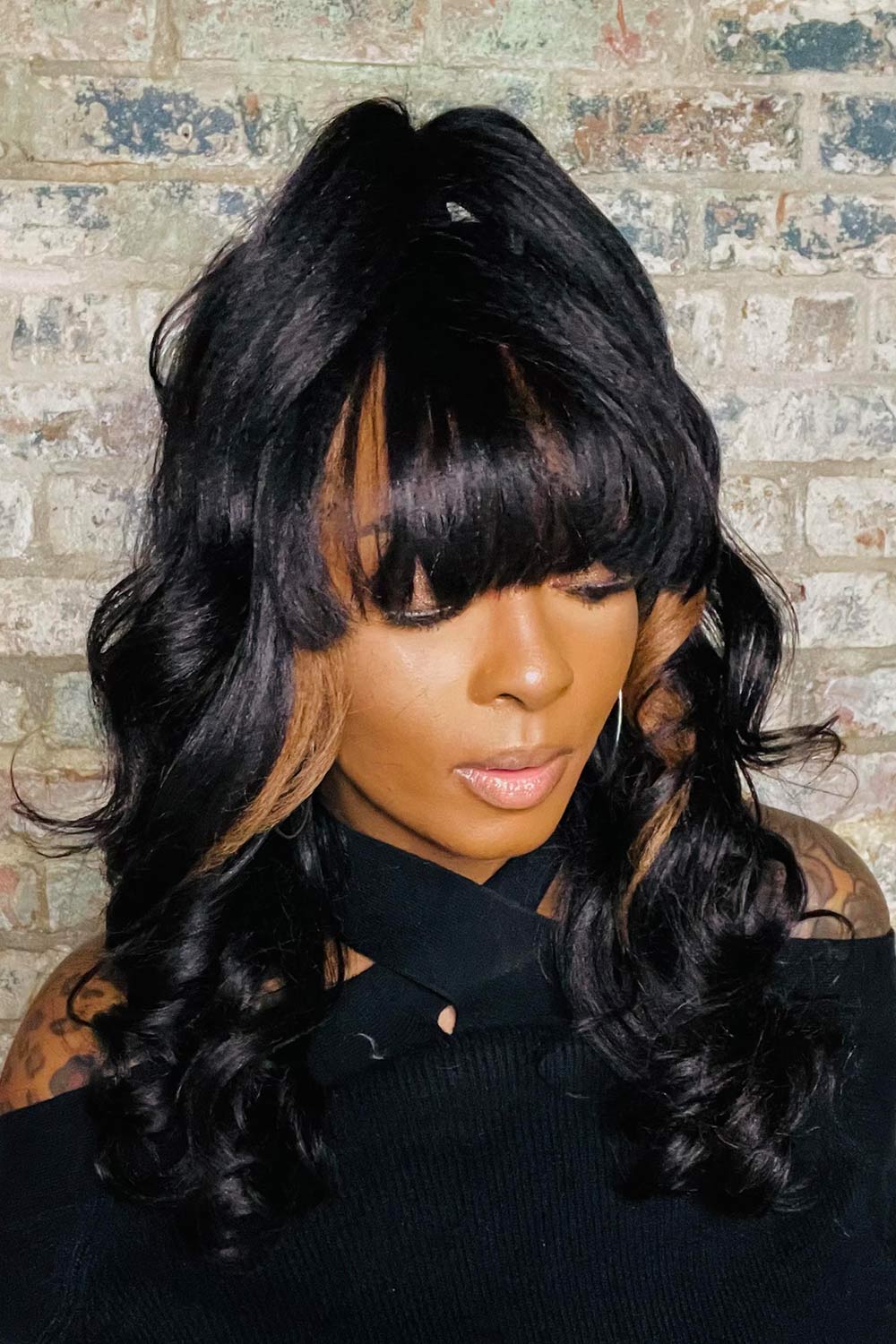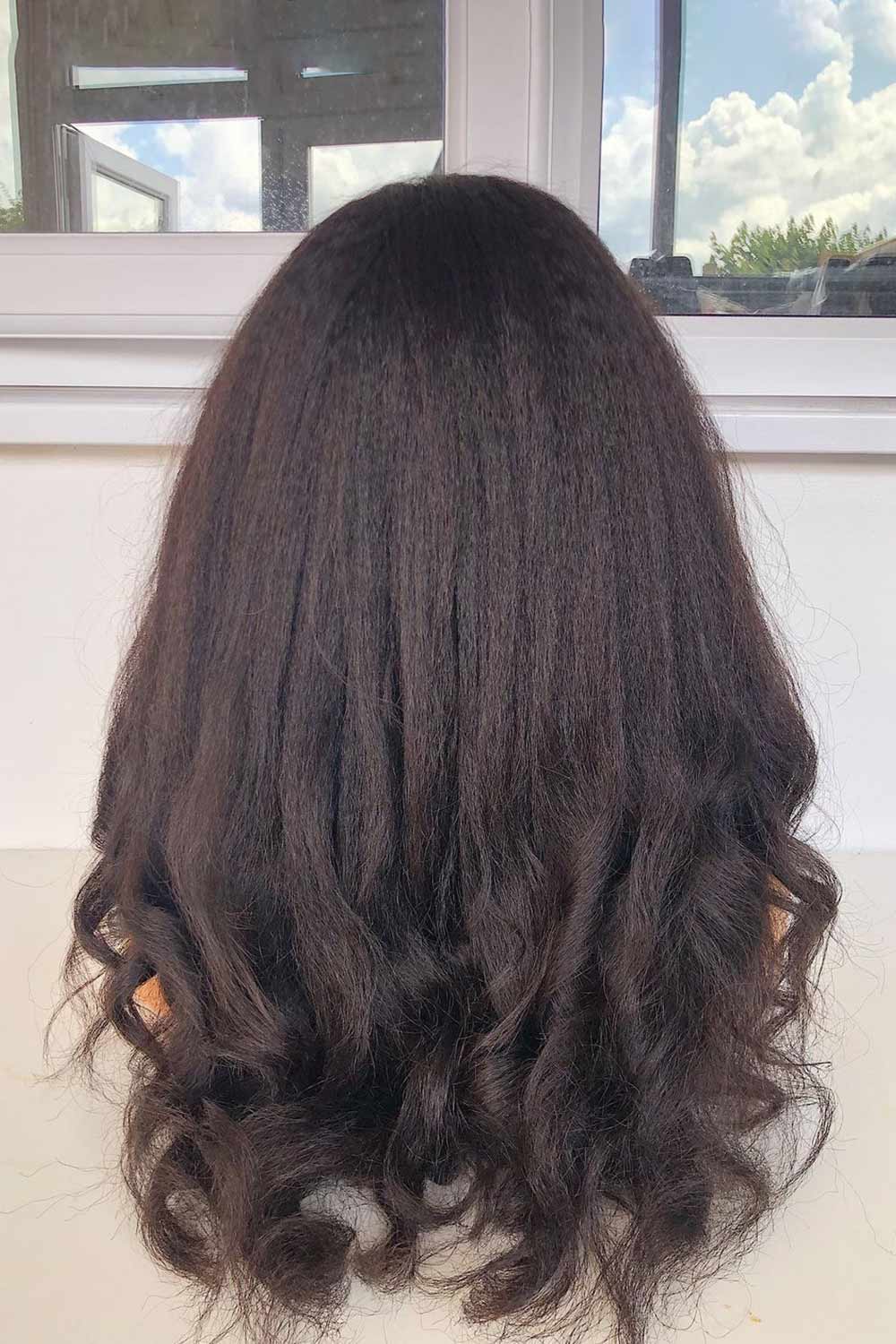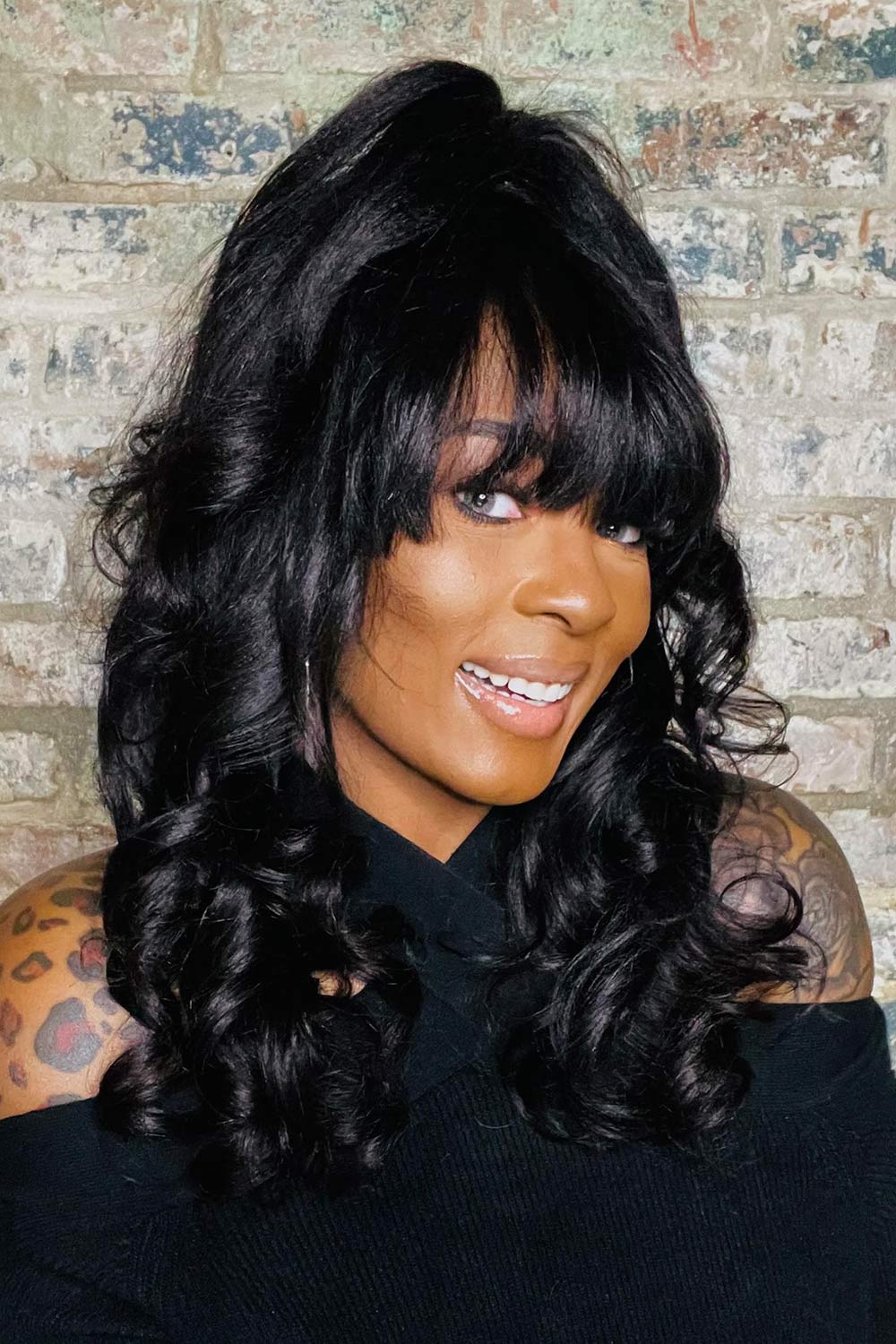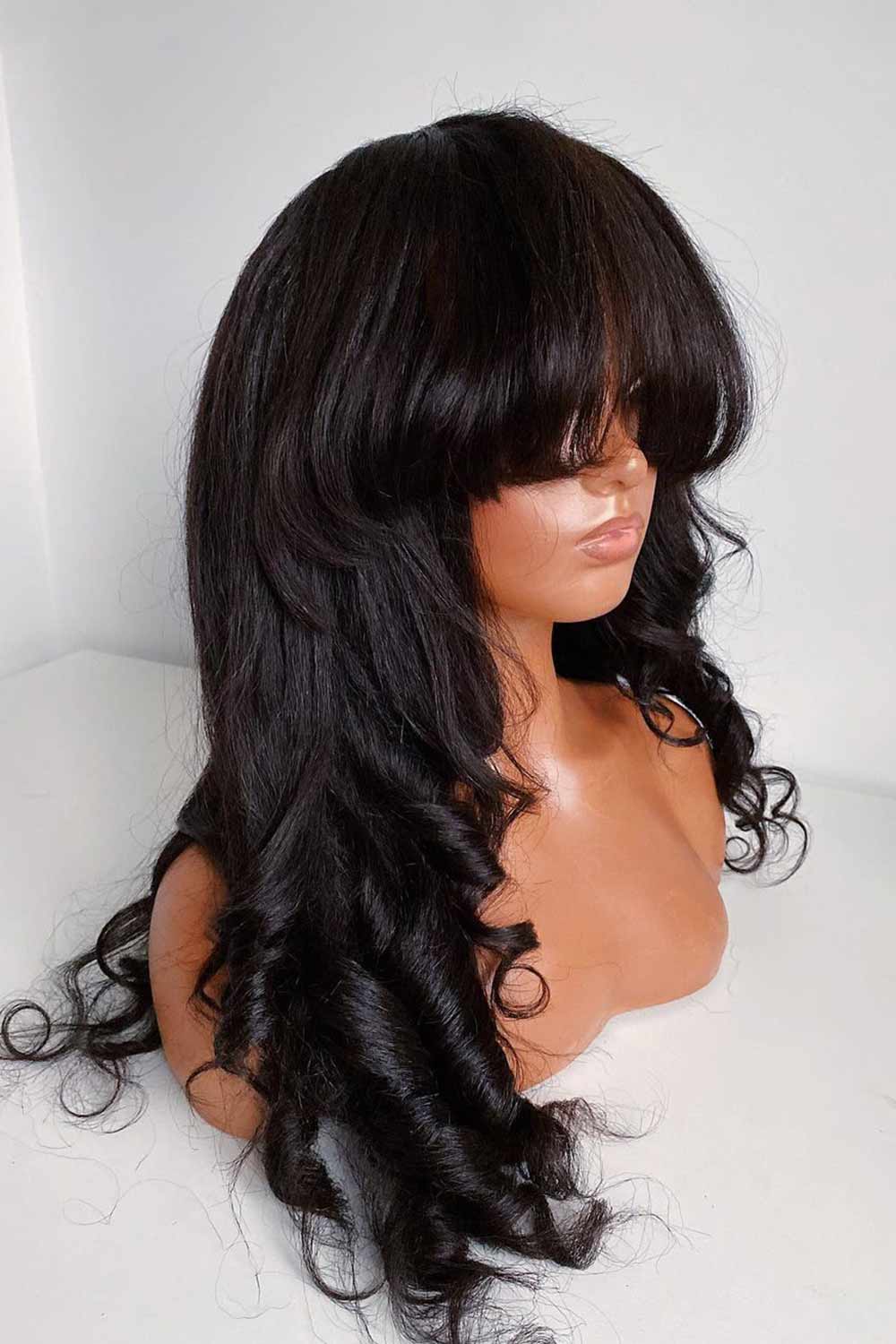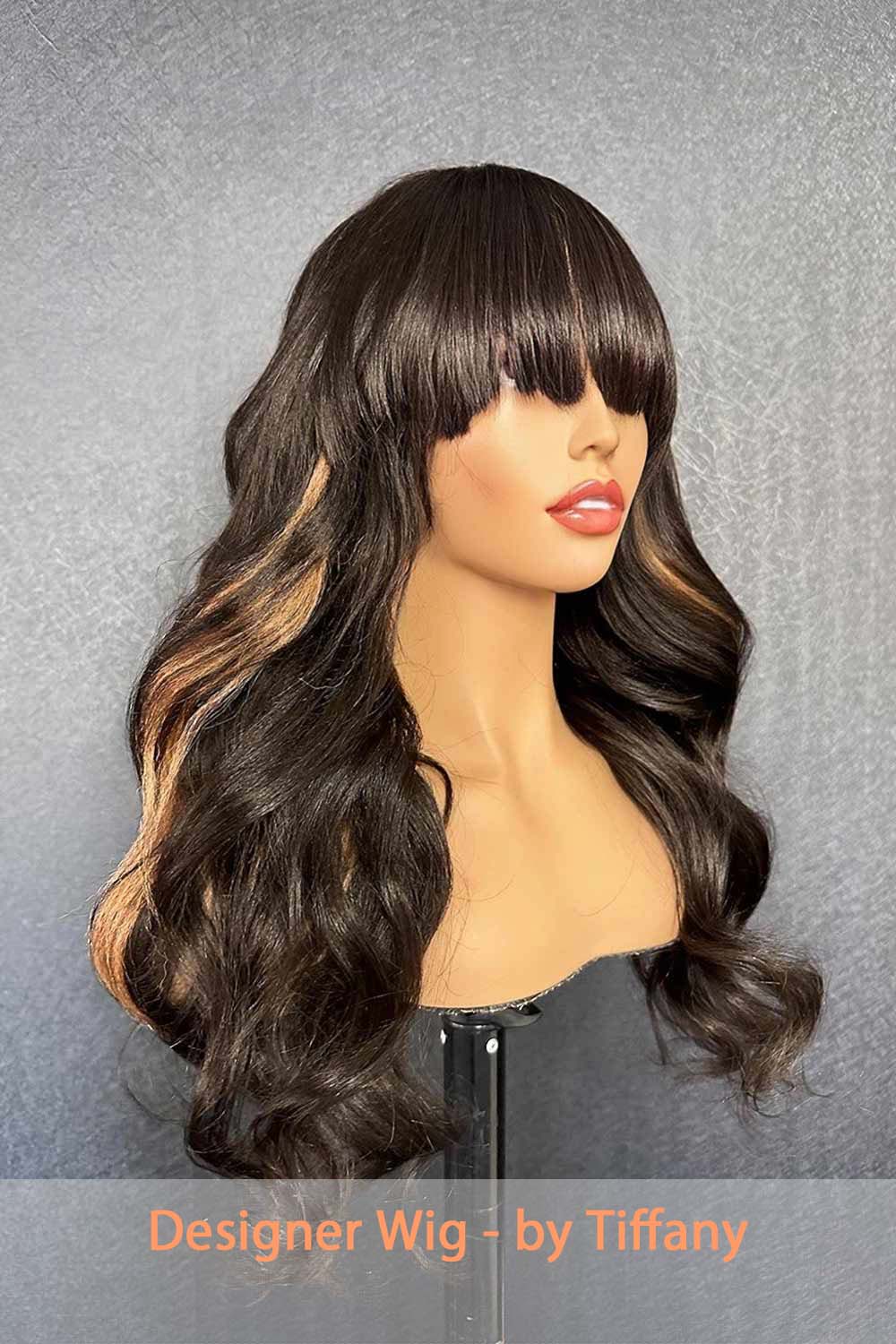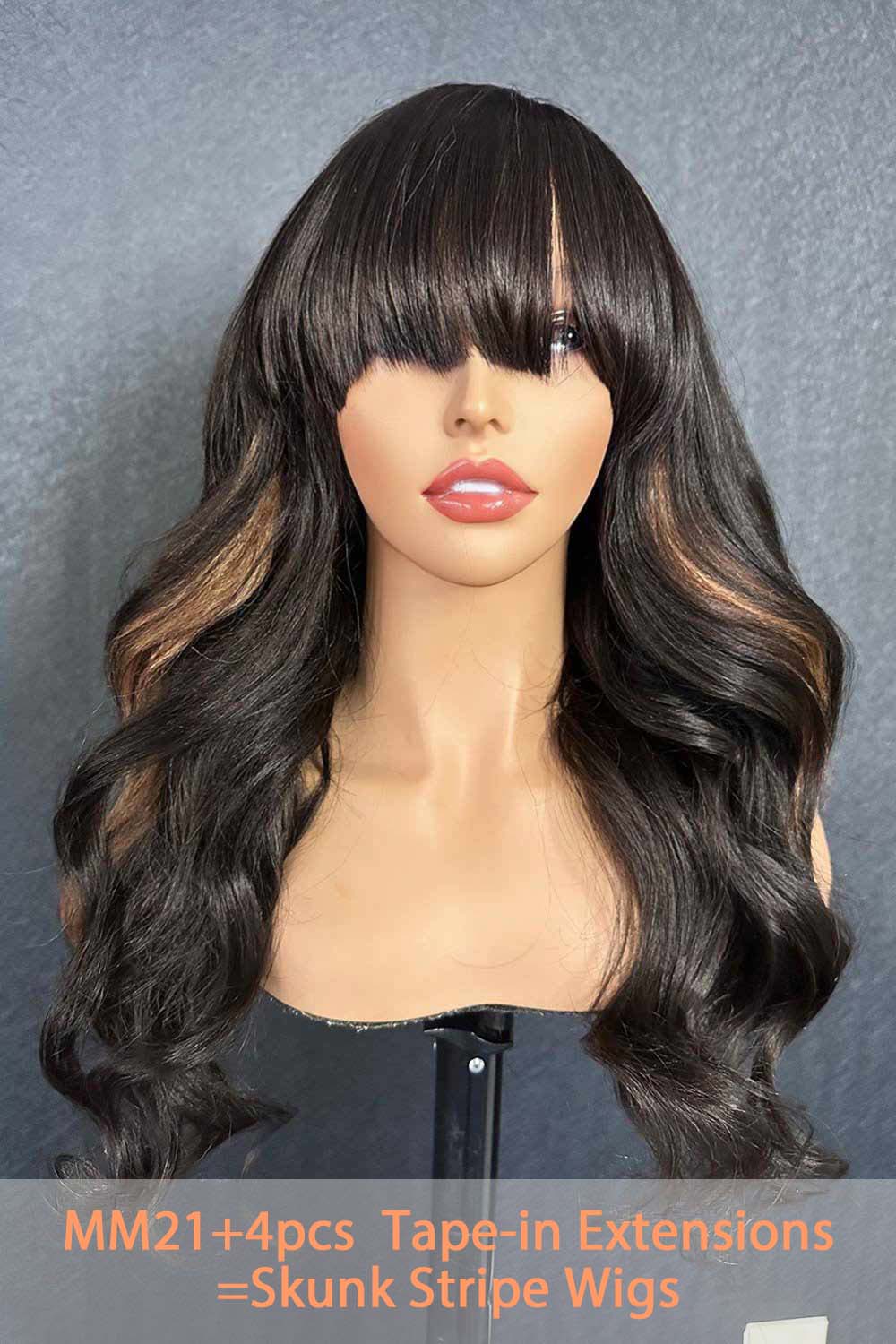 Non-Lace Scalp Top Wigs Yaki Wave with Bangs Virgin Human Hair
Regular price
$105.00
Sale price
$88.00
Save $17.00
/
---
Save big on Black Friday and Thanksgiving
Dive into our spooktacular savings this season:
Don't miss out on these fang-tastic deals! Limited time only. Shop now and save big!
Stackable Offer!
1. 
Price-Break Discount
12% discount on all products (Automatic)
2. Gift Card
Get a $10 gift card when order over $199.
3. Free Gift
Buy any 3 Bulk Hair and get a bottle of 16 oz braid gel for free (worth $20)!
Get broken hair finishing stick order over $59 (worth $4.9).
1. 🎁Free Gifts (With wigs)🎁
We provide the FREE gift packs for each order!(VALUE $22)
Spandex Wig Cap*2
Storage Bag*1

Tangle Release Roller Comb*1 (Free for orders over 

$

219)
✈Free Shipping✈
We ship the goods via DHL\FedEx\UPS\USPS for free. (Order over $59)
Free standard shipping over $29 for USA and most other regions of the world.
The order delivery time is divided into two parts:
a. Processing time:
0-3 working days (Dying/ bleaching colors, doing textures, Increasing density need about 2-5 extra working days).
If you need urgent processing, please contact us in time.
b. Shipping time:
USA: 2-4 working days, Other Countries: 3-8 working days.
98% of customers can receive the goods within 15 days.
Return Policy:
Accept 14-day hassle-free returns, please contact us within 14 days after receiving your package. Contact email: sales@ygwigs.com.
For a complete and detailed introduction, please click on the link below:
This wig texture is yaki and can be straightened or curly.
Order this wig and get 4pcs 30# tape-in extensions for free gifts.
*Note that you are buying an un-designed wig
Product Details:
| | |
| --- | --- |
| Hair No. | MM21 |
| Hair Type | 100% Virgin Human Hair |
| Hair Color | Natural Color |
| Density | 180% |
| Cap Size | Medium(22.5''), others can be customized, please note in the order |
Gurus Reviews:
In this video, Mona B. showcases the Yaki textured bang wig from YG Wigs, detailing its features, offering styling tips, and emphasizing its ease of application and versatility.⏬

00:00 The presenter encourages viewers to follow her on various platforms and introduces the talk-through video.
00:26 Introduction of the YG Wigs unit, detailing its specifications.
01:00 Comment on the wig's unique lace feature for the bangs.
01:35 Initial try-on and the start of the styling process.
02:26 Styling tips for bangs and decision-making on trimming.
03:10 Use of mousse for setting the bangs.
04:15 Curling the wig and emphasizing its retro aesthetic.
06:16 Styling continuation with a musical backdrop.
07:21 High praise for the wig's features, benefits, and versatility.
08:47 Continued appreciation for the wig, with a recommendation for those with locks.
09:48 Encouragement to purchase the YG Wigs unit.
10:15 Conclusion and anticipation for the next video.
In this video, Jess demonstrates and reviews a Yaki textured non-lace wig from YG Wigs, highlighting its quality, style versatility, and the addition of tape-in extensions for an enhanced look.⏬

00:00 Introduction and admiration for YG Wigs.
00:54 Unboxing the wig and accessories, noting the tape-in extensions.
01:31 Details of the wig are shared.
02:06 Initial observation of the wig's texture and style.
02:50 Praise for the wig's Yaki texture and its similarity to popular synthetic styles.
03:37 Try-on without tape-in extensions, emphasizing the wig's appeal.
05:15 Styling segment with integration of tape-in extensions.
06:45 Discussion on the wig's texture and resemblance to other popular wig lines.
07:30 Positive feedback on the wig and ease of use of tape-ins.
08:02 Appreciation for the wig's quality, affordability, and potential.
08:37 Conclusion with strong recommendations for YG Wigs and links in the description.
In this video, Ashley showcases a convenient no-lace Yaki body wave wig from YG Wigs. She provides a step-by-step guide on installation, customization with tape-in extensions, and styling, aiming for a natural look.⏬

00:00 Ashley introduces the video, noting it's Black Friday and she's focusing on a wig tutorial.
00:31 She details the wig's Yaki body wave texture and bang feature.
01:06 Ashley shares her first-time experience with tape-in extensions and hints at a future YG Wigs tutorial.
01:38 The wig installation begins, emphasizing its no-lace advantage and Yaki texture.
02:45 Customization is highlighted as Ashley adjusts the bang to her preference.
03:52 Introduction and demonstration of the tape-in extensions.
06:07 Ashley offers styling tips using a flat iron, focusing on achieving a polished look.
07:10 Wrapping up, she summarizes the wig's features, benefits, and additional products from YG Wigs.
09:58 Ashley concludes the tutorial, wishing viewers a happy holiday season.
YG Non-Lace Wigs:

The Non-Lace wig is also called a machine-made wig. It doesn't have lace, so you don't need glue to stick on the skin; best fit for persons allergic to wig glue and protects your hairline well. Meantime, it's easy to wear and maintain, great for busy women, and very friendly to beginners.

The front of the Ygwigs non-lace wig cap is inside with breathable lace and a stretchable mesh back, which is comfortable and breathable. We use a unique process to make the hairline appear naturally in the hairline. Also, all Non-Lace wigs have bangs, which provide a more natural-looking.
Scalp Top is a technological innovation of non-lace wig. This technology was originally used on top-end lace wigs, but now we transplant it to non-lace wigs seamlessly. No matter how close you are, it's hard to notice that you are wearing a wig.
Comfortable&Natural
Scalp on the top, natural like your own hair.
Combs at 2 sides, front-back, fix well. Stretchable elastic net, fit for head perfectly, breathable and comfortable.
Adjustable straps, adjust the cap size easily, fit for different head sizes.
Front with durable lace, comfortable and good breathability.
Cap Size:
Cap size contains 6 sizes, Error within 0.5 inches is allowed. The circumference is the main size, if there are two or more different sizes, you need to provide us with all the sizes as the following chart, and we will customize the cap for you.
Tips: Medium is a regular size, Small and others need customization (Need extra 1-3 days, don't hesitate to get in touch with us or note in the order).
| | | | |
| --- | --- | --- | --- |
| # | Item(in) | S | M |
| 1 | Circumference | 21.5 | 22.5 |
| 2 | Front To Nape | 13.5 | 14.5 |
| 3 | Side To Side | 11 | 11.5 |
| 4 | Ear To Ear | 12 | 12.5 |
| 5 | Temple To Temple | 14 | 14.5 |
| 6 | Nape Of Neck | 5 | 5.5 |